Coff. I know, I didn't update for a long time lol. But I'm back!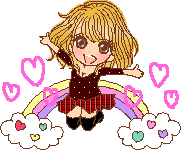 In those months I worked lots (and shopped lots ehm) so I didn't have so much time ><
But I started to wear gyaru again more ofter 😀 Now my wardrobe is divided in 3 parts : 2 big gyaru parts (one agejo and one kurogal) and a small grunge/goth part (yes, I'm still into it too).
After re-organizing my wardrobe I noticed I have not so much agejo clothing, so I'm going to buy more >< I want a perfect wardrobe, fifty-fifty between agejo and kurogal, my favourite styles ♡
BTW I'm wearing lots of agejo lately!


Ma*rs outfit, I borrowed the skirt from a friend

♡
GOLDS Infinity Dress
Ma*rs Belt

Yes, I have fucsia hair now LOL


d.i.a Dress
Stella Dress
Random d.i.a outfit
I've also started to attend a gym, I'm growing lots of muscles even if I'm not really losing weight XD
I hope to manage to lose weight before July since I want to wear this outfit of mine ><


d.i.a summer outfit
I really hope to be able to wear it XD

Okay that's all for today, if you want to follow me here's my instagram
I N S T A G R A M
And my facebook page
L E I A' S R O O M

See you soon, bye bye!


323total visits,1visits today